Hi!
We've all seen the cute little birds at the Dollar Store, right?
I thought the glazing was a little too much for my taste and the black eye - scary... So, out came the handy dandy Toasted Almond paint. I painted the bird and then gave it just a hint of mocha glaze. Much better.
Then, I took another Dollar Store staple - a candle holder. I rummaged through my things looking for just the right perch for the little bird. I found a small clay pot saucer.
I painted and glazed them and put it all together and this is how it came out!
She looks great in my coffee table grouping. The little pot contains my collection of small, egg-shaped rocks so it's like she's watching over her nest.
I posted this on: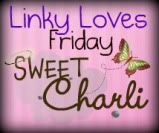 "
Thanks for stopping by!