Hi!
Just as I made the drop cloth draperies for the dining area to help lighten up the mood for spring and summer, I decided I needed to make a change in my living room.
This is how it looked before. Please take note of silliness: Our dog has a little "recliner" right next to my husbands :)
The colors were too dark for this time of year. So, I changed out the draperies (for some that had been in the master bedroom...). That helped a lot. But, what about the cranberry red loveseat? Well, I got out the second drop cloth and made a very simple slipcover. This was my first try at a project like this so give me a break.
I linked up to: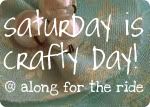 Thanks for stopping by!