Hi!
I'm slowly finishing projects for our master bedroom makeover. My husband picked out a creamy colored bedspread so I decided to use black and cream as the colors in this room. I altered some large shams I got for $3 each. I didn't have a pillow that fit such a large sham, so I just measured a square pillow I had and sewed a square into the center of the sham. This created a "trim" piece on each sham. This only took 10 minutes. They do have a "sting-ray" quality to them but I'm thinking the more they're used and washed this will go away :)
Then, I put together two pillows using some canvas (of course) and some black denim I've had for ages. Then I put a square of decorator fabric in the center of each pillow. I'll probably add some trim to the pillows also.
I'm pretty pleased with how they came out. And they were very easy to make.
And if you noticed that there were a couple posts that had no pictures, I'll get those fixed. You can tell I'm a newbie blogger!
I linked this project up to: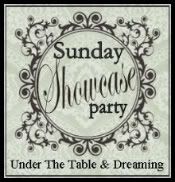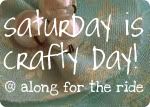 Thanks for stopping by!