Hi!
I'm decorating our master bedroom. I've been trying to keep the cost ultra low and use as many items as I already have. I wanted to change out the white quilted drapes but couldn't find anything I liked in the price range I had set. So, I decided why not just dye the existing drapes? Since they were white they had some areas that had yellowed and I've had them for ages. So, I felt I could justify a dye job. Not as easy as it sounds. Did you know that draperies are very heavy when wet? And that they are extremely difficult to wring out? I hadn't thought of these important issues. Good thing my husband is the type who, when seeing me working on any type of project is always on the lookout for some type error I may be in the process of making and hands out loads of free advice on the better method of accomplishing the goal at hand. Usually I am frustrated by this behavior but this time it was a blessing! He took over the project and they came out pretty well. They went from boring white to this:
This took quite a bit of time as even with an 18 gallon wash tub we felt that we could only do one panel at a time in order for the panel to move freely in the water so that the dye would come out evenly. And when you dye them separately it makes it MUCH harder to have a uniform outcome. And it did take two hours of his time to complete. It's just a good thing I started this project after the Twins game was over.
Now for the cost breakdown: dye $12; canvas I already had (from a drop cloth) $0; new trim $11. So, the total makeover on these drapes came to about $23. I think that's pretty thrifty. And they could now be considered "custom draperies" :) You'll see the whole panel when I reveal the bedroom makeover .... someday.
I linked this to: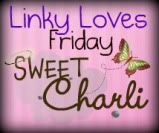 "
Thanks for stopping by!