Hi!
Have you ever gotten a promotional tote bag? While it's a nice gesture and it's nice to support a local business, after a while you're just over it and you don't want to be a walking billboard.
I've had two of these bags hanging around for a long time. I decided to just make them over with a little fabric so I could use them again.
The first is from the University of Minnesota Duluth Library (Go Bulldogs!) UMD is my alma mater and I worked there for years. But I think it's about time to let go.
So, I just added some decorative fabric, a small pocket and a frayed flower.
The second bag was from a local bookstore. This time I added coordinating fabrics in stripes and a flower pin I made.
Voila! Two new tote bags :)
I'm linking up to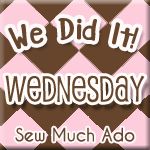 Thanks for stopping by!